After reviewing the previous many posts, I realized that I have missed out one important milestone of my life. The missing link was my "Sportsmanship".
In my primary school days, my teacher Mr Zhuang asked ask to try out one new sport during our PE lesson. We were asked to gather around a pit of sand where Mr Zhuang demonstrated the sport. It was called "Long-Jump"
As the school was having annual sport day soon, Mr Zhuang hope to select a few student to participate in this sport. Each of us was given a chance to try and jump. I did mine as well. Then, I was asked to jump again.... then again.... Finally Mr Zhuang told me that he was very impress with me. The exact (80% remembrance) words he used was "当你跳的时候,就好像一只小鸟在飞, 很轻松,很自在". He said he will train me and also registered me for participation.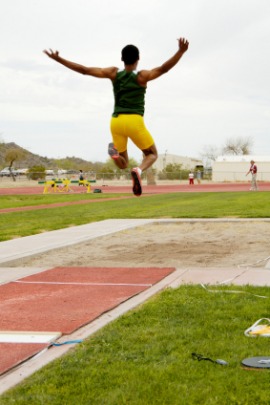 Photos from yourdictionary.com
I trained regularly with him. The effort was not wasted. I came in first for the sport during the annual sport meeting. It did not stop there. When I got into Secondary school, I am still very involved in this sport amidst my "extra-curriculum" activities.
In Secondary one, I registered to participate in "Long-Jump" during the annual sports day. I came in first. Thereafter, I was selected to be part of the school athletic team to represent the school in this sport. Our coach was Ms Tan YL (the pretty teacher who taught me Chemist). I never missed any of her training (you know why?). Along the way, she realized that my stamina was very good and begin to train me also in long-distant running (aka cross-country, the 4.8km run in
MacRitchie
). My timing was 16-17mins back then.
Every year, I will always be participating in long-jump during the sports day. Every year, I am the champion. Although I am short, I can jump 6m. Finally, in secondary 4, only one (apart from me) in the school registered to take part in long jump. I heard from the teacher that no-one wanted to join because they know they can only vied for second place. No joy in that. I was really honored. So I was the reigning champion for long jump throughout the 4 years in school.
Some of the other sports I played was basketball and table tennis. I have won a lot of trophies from these 2 sports as well.
My reflection: While at the peak, don't forget how you climb. Effort is a definite MUST in all that we do. There is no FREE success.
Continue to follow my blog. More will be revealed as I progressed onto the journey
.
Follow me on my blog
www.welsonang.com
as I journey into the different stages of my life.
While reading my post, please support me by "liking" my business pages in Facebook
https://www.facebook.com/expressprintsg
https://www.facebook.com/printonlineSG
https://www.facebook.com/igongzaiSG